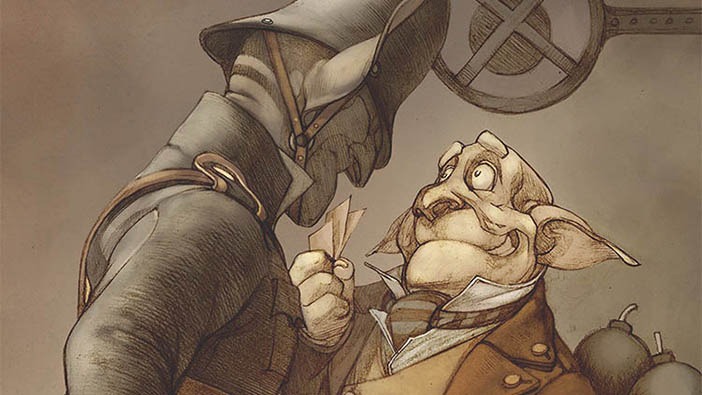 How to spot scammers asking for keys for your game
Hi everyone! We've been quite busy, and it's been some time since we updated our blog, but we're determined to change that as one of our new year's resolutions. Today we want to give some tips and tricks on how to spot scammers. You just published your game, or started a Kickstarter campaign, or you're attending a trade show, and suddenly you receive half a ton of emails from influencers, bloggers, and journalists asking for keys for your game so they can review it in their channels. Cool, right?
Not so fast, cowboy. Sadly, it isn't as easy as that. Some of these requests might be legit, sure – but a good chunk of them will come from scammers trying to get some free keys so they can resell them at questionable places*ahemG2Aahem*. How can you tell them apart? How can you know who's legit and who's not? Captain Obvious comes to the rescue: go to their website or channel, look for their means of contact and check if it matches with the email address. Thanks, Captain Obvious!
Check twice, though – sometimes the address will be different in just ONE letter, or will have a 0 instead of an O. With journos, it is a bit easier: just check if the domain is right. If it is, go ahead: they might not use the key or review the game at all, but you can trust they won't resell the key. If it's not, email the editor in chief of said media outlet and ask them (kindly) if the sender is really a contributor of theirs. If they don't answer, ignore the request.
But usually it's not that easy: many influencers don't publish their email address at all. Or someone writes you claiming to be a freelancer that wants to pitch a story or review to different media. How can you know, then?
Red flags
Well, there are some red flags you can look for:
1. Big influencers hardly write small indie companies asking for a key. Sorry, but that doesn't happen. They have people to handle that stuff, they receive tons of keys anyway, and usually they didn't become big by covering small niche games.
2. Really, really bad English. In this industry, no one gets far without speaking English to some degree. If their English is too broken, beware.
3. Asking for more than one key, be it for their friends, for a giveaway… We're not saying giveaways are necessarily a bad idea (they aren't), but if a random guy showed up at your door claiming to be famous and asking for stuff for a giveaway you would be wary, right?
One of these red flags might not be enough, but if there's 2 or more, save you some time: delete the email and blacklist the address. It's not even worth the time of further attempts to verify them. But let's say that you got an email you can't verify straight away and it doesn't look particularly suspicious… What can you do then?
Some Good Ole' Stalking
First of all: just Google the address. You'd be surprised how many times it's as easy as that: you might find it listed somewhere, or that someone else did verify it in the past, or that they mentioned it in a forum years ago. If not, check the supposed influencer social media channels. Sometimes they do have contact means there. You can also ask them directly on Twitter. Who knows, it might even spark a conversation that leads to them actually receiving a key!
You can also ask the sender to confirm their identity by sending you a DM on Youtube or Facebook, mentioning you on Twitter, or having their editor-in-chief (if they claim to be journalists) to email you. Don't feel bad for sounding a bit too inquisitive: you're giving someone your stuff for free, so it's perfectly OK to verify their identity. You can always throw an apologetic "sorry, but we get a lot of scamming attempts" in the mix. For obvious reasons, a scammer won't even try to answer this kind of requests (why bother when they can move on and find an easier mark?) and they will never contact you again… with that particular address.
As of lately, we've noticed a new trend: sometimes scammers create dummy blogs or channels, put together some crap every now and again and publish it, and then go asking for keys claiming they want to publish a review. Have a look around the site, check their regularity and audience with Similarweb or Alexa. If they don't have an audience or it's irrelevant, or if they update the site only when it's full moon and the stars are aligned, then it's definitely a dummy site.
But this sounds like a lot of (boring) work!
You're probably thinking that this whole process is too time-consuming – and you are right. It does take time, but the thing is, you will receive legit requests too, from people who are actually looking forward to playing your game and covering it in their channels. Medium-sized and niche influencers, freelancers, bloggers, sometimes even journalists trying to discover interesting games for their audience – they do email devs asking for a key.
Painstakingly separating the wheat from the chaff might be time-consuming, but it's worth it. The good news is that you get better at it, and at some point you can at least discard the obvious ones with just a look. And in any case, you can always ask a PR company (for instance, fine gentlemen as ourselves) to lend you a hand with stuff like this and let you focus on what you like and you do best: developing great indie games!